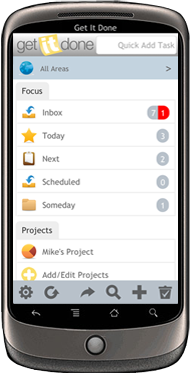 Today we released a new version of our Get It Done Android app which now includes a widget you can put on the home screen of your phone or tablet. This is one of our most heavily requested features and we are glad to bring it to you today.
A few things you can do with the new Android widget:
-- View your tasks for any folder (Inbox, Today, Next, Scheduled, and Someday)
-- Display multiple widgets at one time - Show more than one folder on your home screen
We are looking to build out this widget more in the future to offer more capabilities but we think this is a good start.
If anyone has any suggestions or comments please let us know!
Thanks,
Mike